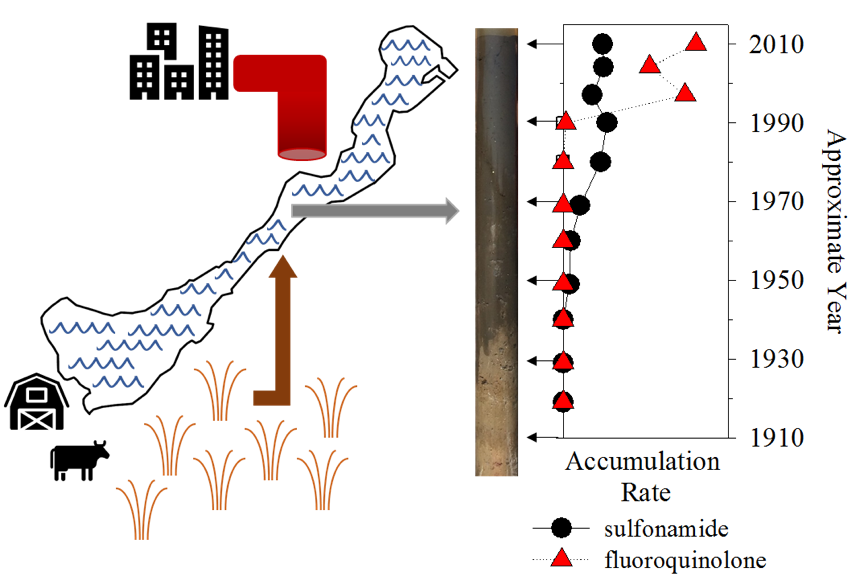 Persistent link to this item
Services
Keywords
Collection period
2016-05-09 to 2017-12-16
Date completed
2017-08-15
Time period coverage
1900-2015
Geographic coverage
Lake Pepin, MN: 44.49975; -92.29417
Duluth Harbor: 46.732783, -92.065333
Little Wilson Lake, MN: 47.656138, -91.067905
Lake Winona, MN: 45.87501, -95.40402
Title
Sedimentary Record of Antibiotic Accumulation in Minnesota Lakes
Published Date
2018-01-29
Authors
Group
Arnold, William
Author Contact
Arnold, William (arnol032@umn.edu)
Type
Dataset
Observational Data
Spatial Data
Abstract
The widespread detection of antibiotics in the environment is concerning because antibiotics are designed to be effective at small doses. The objective of this work was to quantify the accumulation rates of antibiotics used by humans and animals, spanning several major antibiotic classes (sulfonamides, tetracyclines, fluoroquinolones, and macrolides), in Minnesota lake-sediment cores. Our goal was to determine temporal trends, the major anthropogenic source to these lacustrine systems, and the importance of natural production. A historical record of usage trends for ten human and/or animal-use antibiotics (four sulfonamides, three fluoroquinolones, one macrolide, trimethoprim, and lincomycin) was faithfully captured in the sediment cores. Nine other antibiotics were not detected. Ofloxacin, trimethoprim, sulfapyridine, and sulfamethazine were detected in all of the anthropogenically-impacted studied lakes. Maximum sediment fluxes reached 20.5 ng cm−2 yr−1 (concentration 66.1 ng/g) for ofloxacin, 1.2 ng cm−2 yr−1 (1.2 ng/g) for trimethoprim, 3.3 ng cm−2 yr−1 (11.3 ng/g) for sulfapyridine, and 1.0 ng cm−2 yr−1 (1.6 ng/g) for sulfamethazine, respectively. Natural production of lincomycin may have occurred in one lake at fluxes ranging from 0.4 to 1.8 ng cm−2 yr−1 (0.1 to 5.8 ng/g).Wastewater effluent appears to be the primary source of antibiotics in the studied lakes, with lesser inputs from agricultural activities.
Description
Deposited here are Excel files containing data regarding the accumulation rates of antibiotics in lake-sediment cores retrieved from select lakes in Minnesota.
Referenced by
Kerrigan, J. F., Sandberg, K. D., Engstrom, D. R., LaPara, T. M., & Arnold, W. A. (2017). Sedimentary record of antibiotic accumulation in Minnesota Lakes. Science of The Total Environment.
License
Attribution-NonCommercial-NoDerivs 3.0 United States
Suggested Citation
Arnold, William A; Kerrigan, Jill F; Sandberg, Kyle; Engstrom, Daniel R; LaPara, Tim
. (2018).
Sedimentary Record of Antibiotic Accumulation in Minnesota Lakes.
Retrieved from the Data Repository for the University of Minnesota, https://doi.org/10.13020/D6XX03.