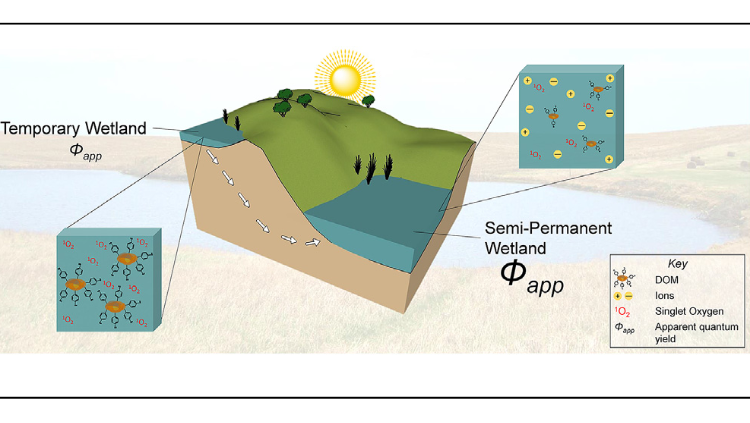 Persistent link to this item
Services
Keywords
Collection period
2012-07-01 to 2016-03-01
Date completed
2016-03-01
Geographic coverage
P1: 47°05'53.55"N 99°05'48.01"W (WGS)
P7: 47°05'43.40"N 99°05'48.01"W
P8: 47°05'55.85"N 99°06'15.65"W
T9: 47°05'52.15"N 99°05'28.85"W
R1: 47°42'3.17"N 96°18'48.17"W
R2: 47°44'2.04"N 96°20'10.51"W
D1: 44°13'57"N 95°37'22"W (approximate location)
Title
Optical and Photochemical Data of Prairie Wetlands Collected in North Dakota and Minnesota from 2012-July to 2014-November
Published Date
2017-03-07
Authors
Author Contact
Arnold, William A (arnol032@umn.edu)
Type
Dataset
Abstract
Surface water samples were collected from seven prairie pothole wetlands between 2012-July and 2014-November. Optical and photochemical parameters of the samples were measured under controlled laboratory conditions. The data were collected to better understand the way in which seasonal changes and spatial differences in prairie wetland water chemistry influence photochemistry. Samples are identified by the month and year in which they were collected and the typical hydroperiod of the wetland surface water (temporary or semi-permanent). Rates of formation, steady-state concentrations, and apparent quantum yields (or appropriate proxies) were measured for triplet excited states of dissolved organic matter, singlet oxygen, hydroxyl radical, and carbonate radical under a broadband xenon-arc lamp with a 290-nm wavelength filter.
Funding information
Sponsorship: United States Geological Survey-National Institutes for Water Resources (G12AP20153); Moos Fellowship from the College of Biological Sciences, University of Minnesota; Ancillary support from the Minnesota Environment and Natural Resources Trust Fund as recommended by the Legislative‐Citizen Commission on Minnesota Resources (LCCMR)
Referenced by
McCabe, A. J., & Arnold, W. A. (2016). Seasonal and spatial variabilities in the water chemistry of prairie pothole wetlands influence the photoproduction of reactive intermediates. Chemosphere, 155, 640-647.
License
Attribution 3.0 United States
Suggested Citation
Arnold, William A
. (2017).
Optical and Photochemical Data of Prairie Wetlands Collected in North Dakota and Minnesota from 2012-July to 2014-November.
Retrieved from the Data Repository for the University of Minnesota, https://doi.org/10.13020/D62C7G.