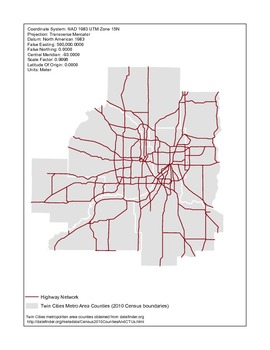 Persistent link to this item
Services
Keywords
Date completed
2/16/03
Geographic coverage
Bounding box (W, S, E, N): -94.021924, 44.467719, -92.757556, 45.414128
Title
1920-1995 Twin Cities State Highway Network
Published Date
2014-03-21
Authors
Author Contact
Levinson, David M. (dlevinson@umn.edu)
Type
Dataset
Map
Spatial Data
Observational Data
Abstract
Illustrates the development of the highway network in the Twin Cities metropolitan region. GIS maps of the state highway network were created for 1920-1995 (these were not previously digitized). These were used to build Markov Chain Cellular Automata models of land use change and network growth.
Description
Vector line data with highway centerlines. Features may have attributes indicating year built and/or year divided. Also includes a PDF illustrating the data.
Funding information
Sponsorship: MnDOT Report 2003-37
Funding agency: Minnesota Department of Transportation
Funding agency ID: Contract #: (c) 81655 (wo) 8
Sponsorship grant: If They Come, Will You Build It? Urban Transportation Network Growth Models
Referenced by
Levinson, David, and Wei Chen (2007) "Area Based Models of New Highway Route Growth." ASCE Journal of Urban Planning and Development 133(4) 250-254.
Levinson, David and Wei Chen (2005) "Paving New Ground" in Access to Destinations (ed. David Levinson and Kevin Krizek) Elsevier Publishers.
License
Depositor did not specify a license. Material may be reused with appropriate attribution.
Suggested Citation
Chen, Wei; Levinson, David M
. (2014).
1920-1995 Twin Cities State Highway Network.
Retrieved from the Data Repository for the University of Minnesota, http://dx.doi.org/10.13020/D6CC78.