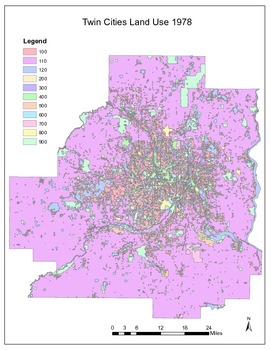 Persistent link to this item
Services
Date completed
3/12/03
Geographic coverage
Bounding box (W, S, E, N): -94.019175, 44.464741, -92.727311, 45.414759
Title
1978 Twin Cities Land Use Map from the Twin Cities Metropolitan Planning Commission, GIS Data Files
Published Date
2014-03-03
Authors
Author Contact
Levinson, David M. (dlevinson@umn.edu)
Type
Dataset
Map
Spatial Data
Abstract
High-quality GIS land use maps for the Twin Cities Metropolitan Area for 1978 that were developed from paper maps (no GIS version existed previously).
Description
The GIS shapefiles were exported using ArcGIS Quick Import Tool from the Data Interoperability Toolbox. The coverage files was imported into a file geodatabase then exported to a .shp file for long-term use without proprietary software. An example output of the final GIS file is include as a pdf, in addition, a scan of the original 1978 map (held in the UMN Borchert Map Library) is included as a pdf. Metadata was extracted as an xml file. Finally, all associated coverage files and original map scans were zipped into one file for download and reuse.
Funding information
Sponsorship: MnDOT Report 2003-37
Funding agency: Minnesota Department of Transportation
Funding agency ID: Contract #: (c) 81655 (wo) 8
Sponsorship grant: If They Come, Will You Build It? Urban Transportation Network Growth Models
Referenced by
Levinson, David, and Wei Chen (2007) "Area Based Models of New Highway Route Growth." ASCE Journal of Urban Planning and Development 133(4) 250-254.
Levinson, David and Wei Chen (2005) "Paving New Ground" in Access to Destinations (ed. David Levinson and Kevin Krizek) Elsevier Publishers.
License
Depositor did not specify a license. Material may be reused with appropriate attribution.
Suggested Citation
Levinson, David M; Chen, Wei
. (2014).
1978 Twin Cities Land Use Map from the Twin Cities Metropolitan Planning Commission, GIS Data Files.
Retrieved from the Data Repository for the University of Minnesota, http://dx.doi.org/10.13020/D67P40.